In addition to 60-minute treatment sessions, other available sessions are listed below:
Massage Treatments
Swedish, and Integrated Treatments
30 Minutes - $40
60 Minutes - $65
75 Minutes - $75
90 Minutes - $90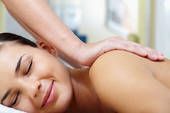 Reiki
30 Minutes - $40
60 Minutes- $65
Chair Massage
On-site chair massage rates are variable depending on several factors.
Please contact me to get more information for your event.
Gift Certificates Available
Delight a friend or family member by giving them the Gift of Massage!
You'll show your thoughtfulness and caring by giving them a gift that not only feels great, but also promotes their health and wellness. What could be better than that?
Prices Subject to Change Without Notice